About IEW
The International Energy Workshop (IEW) is one of the leading conferences for the international energy modeling research community. In a world of environmental and economic constraints, energy modeling is an increasingly important tool for addressing the complexity of energy planning and policy making. MORE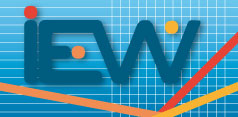 News
!
The 39th edition of IEW

will be hosted as

VIRTUAL CONFERENCE

by Fraunhofer on

14-17 June, 2021

.


Registration is now open.


MORE
The IEA-ETSAP meetings will been held back to back with IEW 2021.
MORE



!Download here the IEW brochure!

Annual meeting
!In the light of the COVID-19 outbreak, the committee of IEW directors and Fraunhofer hosts has decided to postpone IEW2020 to 2021 to promote safety and help contain the virus.
MORE